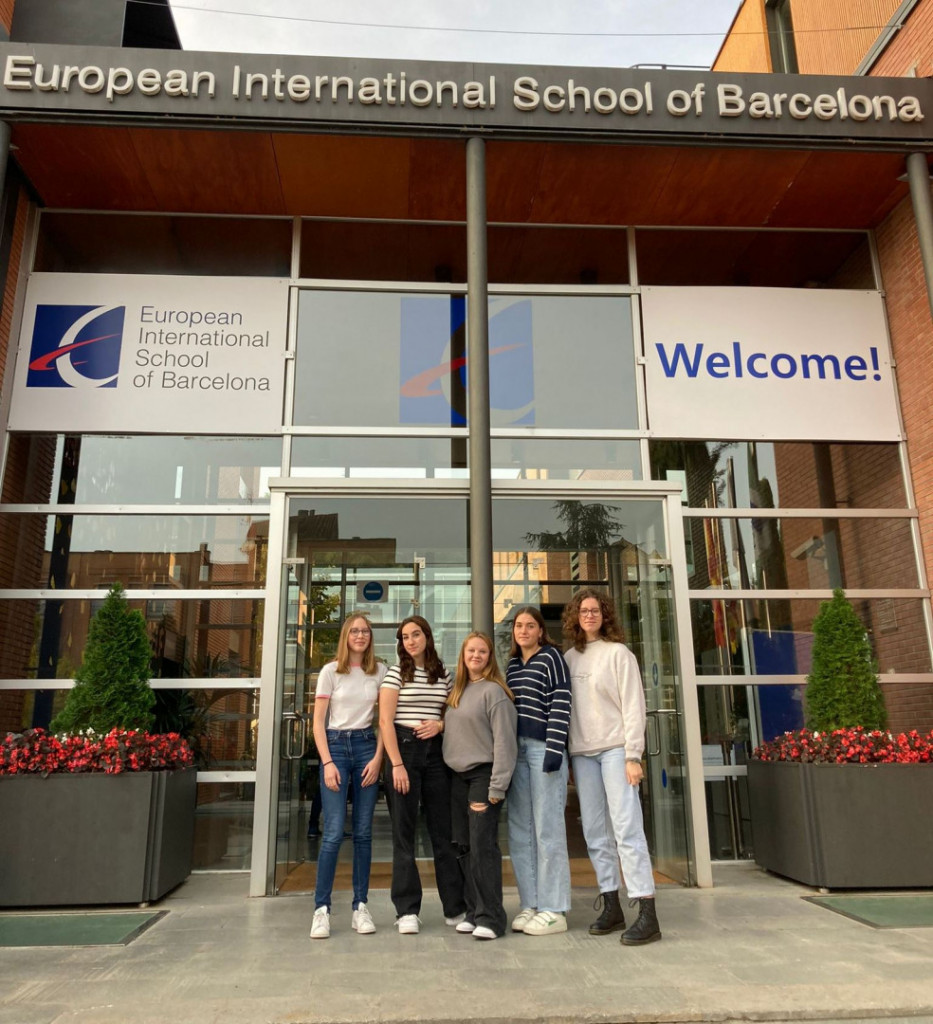 It's time for Elynnah, Jeanne, Louisa, Louise and Rose to return home. A month spent at the international school in Barcelona, and with their host family. A month immersed in Catalan culture, discovering Sant Cugat and Barcelona. A month of practising Spanish on a daily basis (and trying their hand at Catalan). An unforgettable and enriching experience. Here are a few lines about their impressions. A more complete assessment was made with each of them.
Elynah

My experience during a month in Sant Cugat will be unforgettable. It is very interesting to leave our habits and enter a different everyday life. The courses in Spain are great, the teachers do everything to guarantee the success of their students. The life of the young people is very good, many activities are possible. An extraordinary, rich exchange, which I recommend to everyone
Rose

I was very impressed with the way I was able to learn about a new culture and a different way of life during this month-long immersion in the life of a Spanish high school student, which was very enriching and beneficial for my language skills, especially in Spanish but also in English. I only retain positive things from this exchange
Louise

Thanks to this trip I got to know Spain, its culture, its gastronomy, and the school system in which the students live, which is very different from ours.
I think it is a very nice experience to live, both culturally and humanly.
Jeanne

This exchange in Spain allowed me to open up to another culture and to meet new people. I discovered a new way of life and I have considerably improved my Spanish, speaking only this language for one month. I loved the country, the gastronomy and the people I met there.
Louisa

This one month exchange in Barcelona was very enriching for me!
I had the opportunity to speak many times with native Spaniards which allowed me to understand Spanish much better now and I also spoke English. During my stay I visited several cities other than Barcelona (Calafell, Zaragoza), I tasted typical dishes… this exchange was really a cultural opening.
I had never been to another country and this month made me want to do exchanges and travel again.



After Spain, let's go to Germany and more precisely to Bad Harzburg
Chloë, Elijah and Tom are leaving for two weekes to one of our German partners, the Werner von Siemens Gymnasium in Bad Harzburg. We will receive their correspondent Noah, Max and Pia from 21 January to 5 February 2023. This will be an opportunity to discover our two high schools, our regions and their cultural heritage.
These individual pupil mobilities take place within the framework of our Erasmus+ accreditation